Track and accomplish accounting tasks for end of the month or quarterly closing of books.
At the end of the month or quarter, there are many activities that need to be taken care of so accountants can close out their books. Cast will make sorting and assigning the different Cases to the accounting team an easier and smoother process. Proper procedures will be provided in Standards and there will be a regularly recurring analysis to determine if month-end tasks are on track.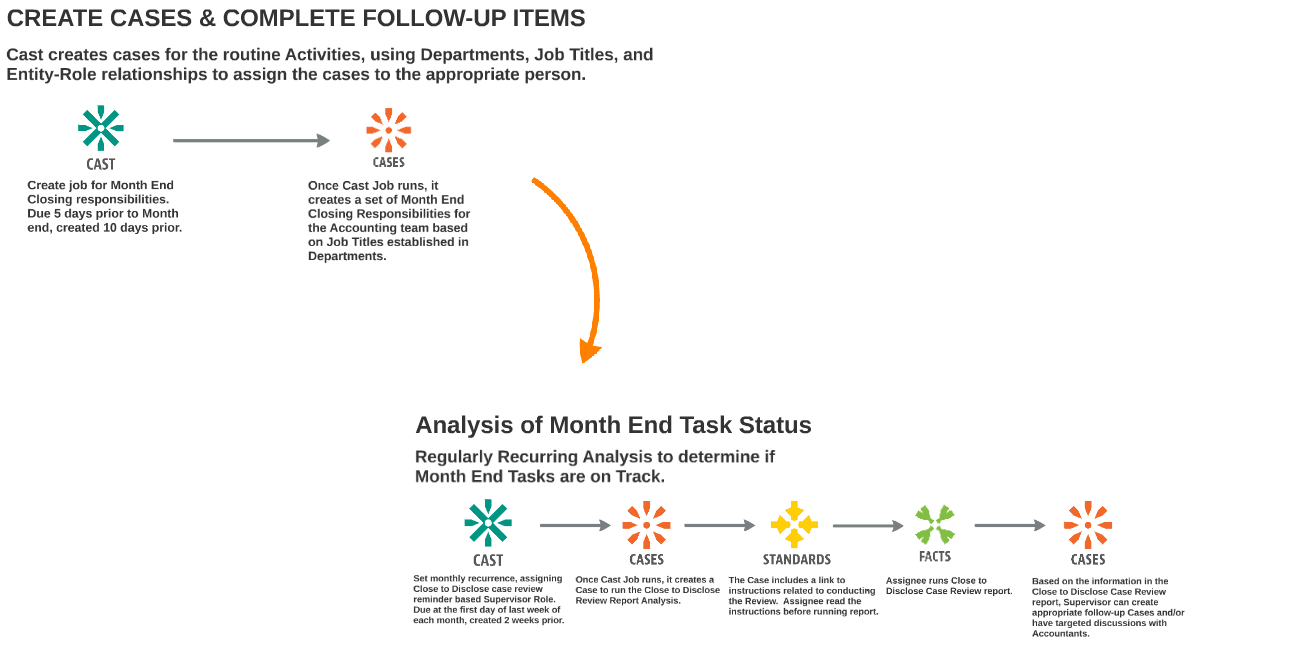 USER EXPERIENCE :
Set monthly recurrence, assigning Close to Disclose case review reminder based on Supervisor Role.
Due at first day of last week of each month, created 2 weeks prior.
Once Cast job runs, it creates and assigns a set of month-end closing responsibilities for the Accounting team based on job titles established in Departments.
The Case includes a link to instructions related to conducting the review.
Assignee reads instructions before running the report.
Assignee will run Close to Disclose review report in order to track month-end task statuses.
Based on the information in the Close to Disclose review report, supervisor can create appropriate follow-up cases and/or have targeted discussions with accountants.
BEST PRACTICES :
Periodic schedule of how often Cast will need to run and assign tasks must be calculated in order to optimize the results of the analysis.
Employees and their roles must be documented in Departments in order to ensure that the correct tasks are assigned to the person responsible.
The Close to Disclose procedure must be documented for all aspects of the process in accordance to the Company policies.
Reports must be formatted to show all necessary aspects of the Close to Disclose process and therefore easily identify any issues that must be addressed.
Case due dates must be created to allow enough time to accomplish but also within the time frame in order to be included in the analysis.
FUNCTIONAL SETUP :
Assign appropriate roles to individuals in Departments such that analysis Cases are properly assigned.
Create or verify appropriate Roles as needed in Entities to accommodate the assignment to appropriate Analysts.
Create appropriate instructions in Standards for the particular Analysis to be performed.
Create or identify existing Case types to accommodate analysis tasks.
Create the report that will be used as the input for the Close to Disclose Analysis.