Team Management: Activities
Assign responsibilities to certain individuals in order to accomplish a team activity.
All organizations have personnel activity management needs and each department or team has a unique set of activities to complete within a given time. Central's structured and holistic approach to managing activities provides reusable data-driven decision-making processes spanning the enterprise.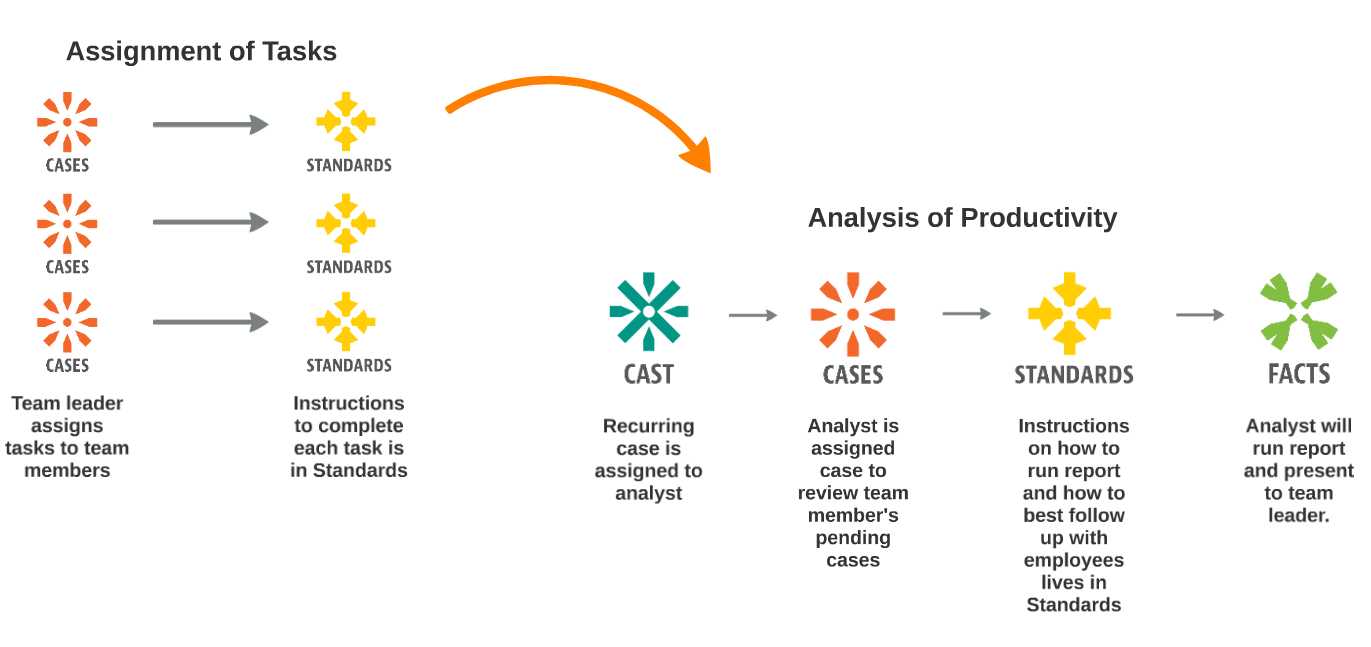 USER EXPERIENCE :
Assign Cases to employees as request to complete certain action items.
CAST job will run to kick off case to analyst on a monthly, bi-monthly, or quarterly basis.
Case assigned to analyst requesting to run Case Overdue Report.
For any overdue tasks analyst will follow up with appropriate assignee's.
Instructions on how to run report and best practice with following up with employees lives in Standards.
Analyst will refer to these instructions as a follow up guide.
Analyst will run report to determine which cases to follow up with.
BEST PRACTICES :
Interview stakeholders to define activity tracking needs, including standard company System Codes and specific requirements relating to each team or department.
Once a Case Type is set up it is an important cultural practice to use that system, and only that system, consistently.
Everyone in the company, particularly Supervisors, Managers, and other influential users, should insist on using the system as the only way to create or manage that process.
The Cases System provides the ability to track Case Owner separately from Case Assignee.
By default, the Case Creator is the Case Owner.
In some Case Types, especially simple ones that do not require collaboration or that can be completed quickly, the concept of ownership is not particularly useful.
However, for Case Types that include multiple steps or involvement from multiple people over time, ownership is extremely useful principle.
In those instances, a Case Owner can continue to manage a Case as the Owner, even as the Case is assigned to a series of different Users.
Hoppers are helpful in consolidating unassigned Cases of multiple Case Types into one group, so an individual Hopper Owner can catch unassigned Cases.
In some instances, Hoppers are used by design, such as when a team of individuals works a case load together.
In other cases, Hoppers are only thought of as a last line of defense to catch Cases that are mistakenly not assigned to anyone, and the activity would be very light.
Use System Codes to connect fields that include similar and commonly viewed information.
They are extremely helpful in generating reports and in rendering lists containing multiple Case Types.
FUNCTIONAL SETUP :
Create Case Types for different Departments with category meta-data fields to organize data.
Set up CAST job based on desired interval to send out Case to analyst to run Past Due Inspection.
Write instructions on how to run report and include tips and tricks on how to follow up with employees who have past due cases.
Configure report to demonstrate which Cases are "past due" within the system.
Create Entity role relationship in order for Cases to be assigned based on role.