Vehicle Maintenance & Registration Notice
Track and manage Company vehicles to ensure they are in working condition and registered.
Maintaining a fleet of company vehicles can be a real challenge, especially when said fleet consists of 100+ vehicles. Constant inspection and maintenance is extremely important to ensure vehicles are not only safe for employees to operate, but also current on their registration and certifications. Central allows for recurring cases to be created in order for managers to track the status of any vehicle in their fleet at any point in time. Records of inspections and registrations is associated to every vehicle, therefore any information necessary for any vehicle is easily accessible.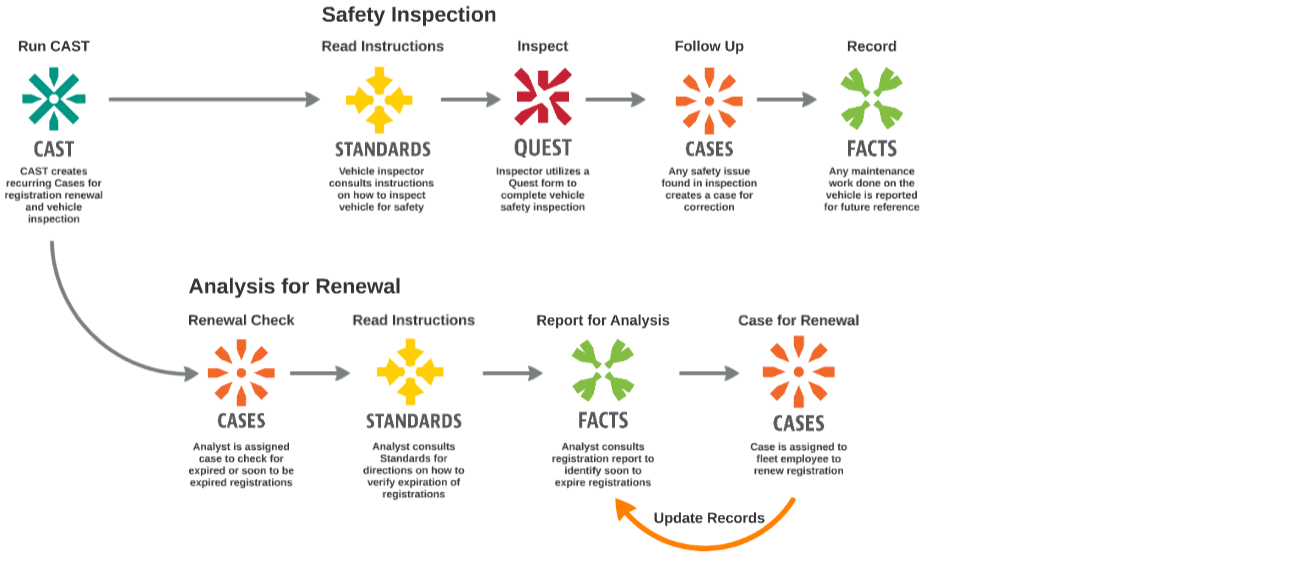 USER EXPERIENCE :
CAST creates and assigns recurring tasks for vehicle safety inspections and registration checks to be completed
Vehicle inspector assigned case to inspect consults instructions on how to complete vehicle inspection
Quest form is used to inspect vehicle for maintenance and safety issues
Any issue recorded on the Quest form will create a case for correction
All maintenance work is recorded and reported for review by fleet managers
Analyst is assigned case to check for soon to expire registrations and certifications on vehicles
Analyst consults instructions on how to check for expiring registrations and certifications
Report contains all registrations and certifications with their respective expiration date
Analyst identifies expiring certifications and creates case to renew
Once renewed, new registration or certification information is updated in the reports
BEST PRACTICES :
CAST should be programmed to create registration renewal cases 30 days prior to expiration date of each vehicle
If an employee operating a vehicle notices an issue, they should stop operation and create an inspection case
Fleet manager should revise maintenance reports periodically for patterns of recurring issues with vehicles
Checking that vehicle registration and certifications are valid should be part of the vehicle inspection Quest form
FUNCTIONAL SETUP :
CAST must be configured to create cases depending on expiration dates and mandatory inspection schedule
Instructions on how to complete vehicle inspection along with how to check for expiring registrations must be created and documented in Standards
Quest form must be created for vehicle inspections
Reports must be created to display vehicle inspection results and maintenance work as well as vehicle registration and their respective expiration dates
Vehicle entity type must be created
Employees must be associated with their assigned vehicle in Departments
Inspection and registration renewal case types must be created