Manage the QA life cycle by organizing tasks and ensuring they are assigned to the correct person.
Quality assurance issues surface across an enterprise, each posing a unique set of issues to be reviewed and analyzed. Whether rolling a product off of a production line, compiling code from software development efforts, verifying an office build-out, or finalizing a completed service; a review of the process needs to be conducted for quality. Central manages such QA life cycle by enabling dynamic checklists, task assignments, and reporting capabilities.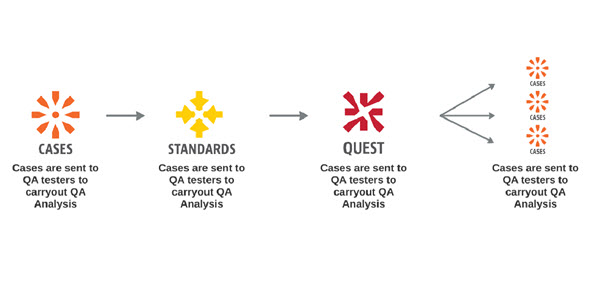 USER EXPERIENCE :
Cases are sent to Quality QA Testers to carryout QA analysis as described in each Quest checklist.
Standards define the details of each testing process.
QA Tester completes Quest checklist form.
Follow up Cases are assigned to the appropriate people to take action on items that did not fulfill QA requirements.