Management of multimedia content which may be used in various ways from training to evaluation.
Video and audio files often capture important customer interactions, security incidents, or inspection information, but they are typically unstructured and difficult to use outside of limited, anecdotal settings. Moreover, reviewing and tagging these files is time-consuming and requires expensive training. Bring structure and scalability to derive value from these assets by applying a consistent, forms-based scoring and tagging protocol, and use the resulting data to drive decisions.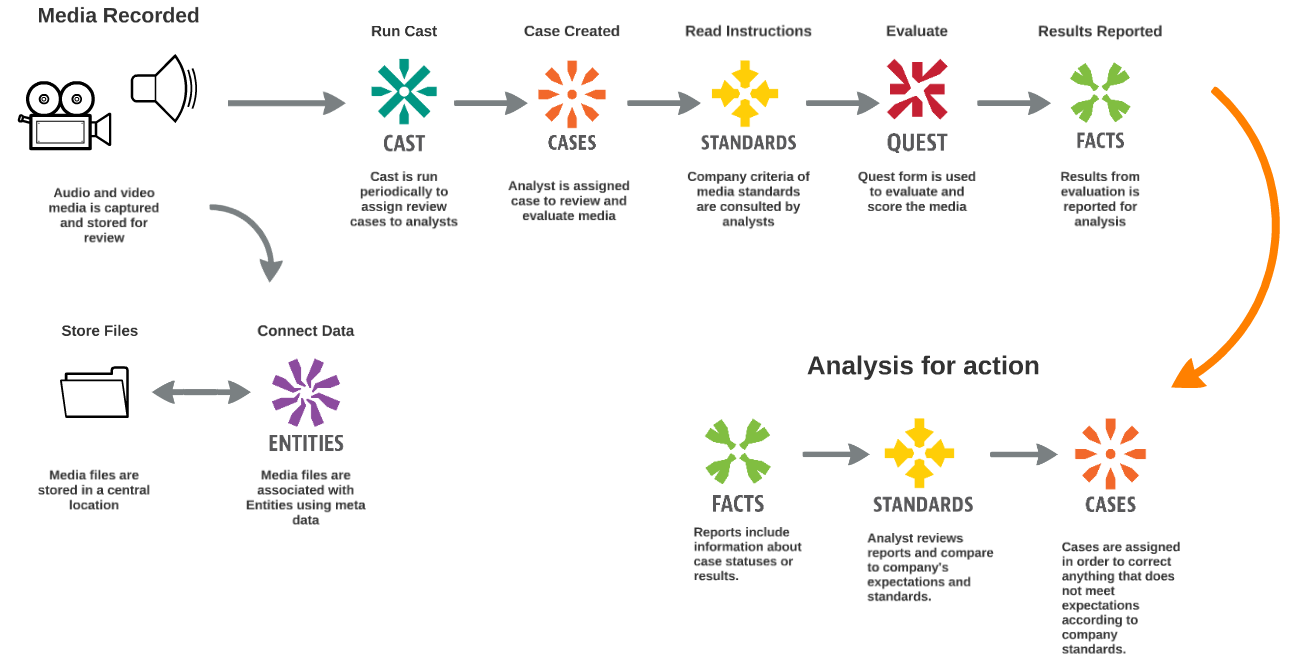 USER EXPERIENCE :
Video and audio files are captured by secret shoppers, customers service recordings, mobile or stationary cameras, or security systems. These files are stored in a content repository and associated with an Entity type created to reflect these files
The file Entity is tagged to metadata such as Manager, Site, File, Type and so on in order to relate the file to the overall corporate structure and create context
Cast will run on a regulated interval to initiate review
Case is assigned to the analyst with the appropriate link to the instructions and applicable Quest form
Analysts are trained to properly review files by referring to written Standards and by conducting training reviews until their reported scores are sufficiently similar to pre-established "gold standard" scored for the same files
Files are reviewed by analysts and scored according to a relevant Quest form. While forms may differ based on specific incidents or file-types, they include common reporting categories to capture roll-up information across file types
A variety of reports can be run against the data generated by this process including: individual performance reviews, supervisor/region/location reviews, trend analysis for identifying success and opportunity.