Creation and management of an action plan program in order to resolve or accomplish a problem or task.
An Action Plan program systematizes the identification of opportunities for improvement, the creation of specific intervention plans by selecting from pre-defined interventions (or "Plays"), and the implementation of these plans. A coordinated system not only ensures that opportunities are not missed, but also that teams and individuals do not continually reinvent the wheel to solve common problems for which best-practices already exist. Finally, coordinated Action Plans improve consistency across an organization, and dramatically reduces the time required for training and supervision.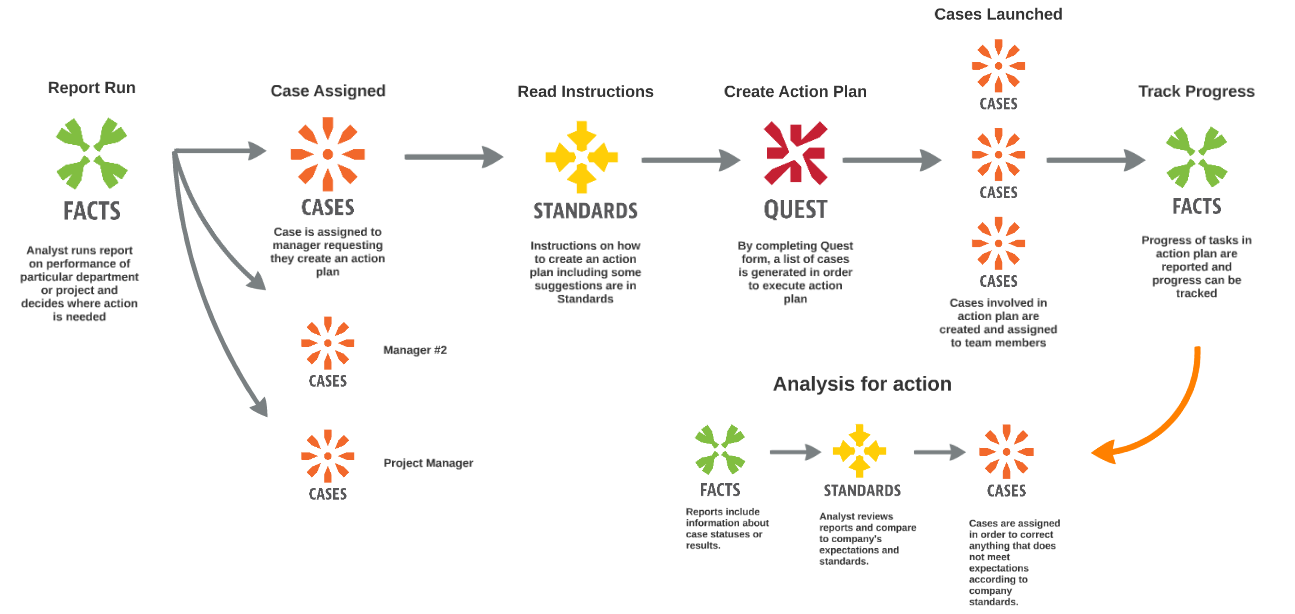 USER EXPERIENCE :
Analyst runs report that identifies opportunities based on certain thresholds (for example, if a manager is underperforming at a certain location)
Analyst assigns a case to each Manager who has opportunity for improvement and request the completion of an Action Plan
Instructions and guidelines on how to build an Action Plan are within Standards. Even descriptions of the possible actions and their benefits in terms of improving
Manager proceeds to Quest and selects the Actions they'd like to assign to their "plan" to improve. Each action item selected in the Quest form turns into a case that is assigned to the Manager
The Manager ensures completion of each case in alignment with their action plan
While Managers focus on individual action plans, supervisors may be overseeing several. They can access a report summarizing the status of each Action plan. This report is easily generated and includes both summary and detail information on the progress made by each manager, based on status of the case.