News
Stay current on the latest Stemmons news, learn more about our product development and increased functionalities within Stemmons.
Categories
---
Stemmons Central Release 2.2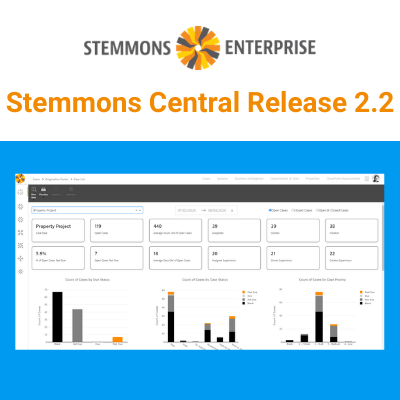 New Design, Optimized Performance, Visualization Tools & More. Big Changes are Coming Soon to Stemmons!
Boxer Property is currently in the beta testing period for the new Stemmons Central Release 2.2 and employees couldn't be more excited about the new design and overall user experience. The new user experience and user interface design is both engaging and refocusing the Boxer Team on the results of their work thanks to the recent addition of Visualize tool that launched in July. Now every employee and team can go from your standard to-do list, to actually visualizing how the work is being done. See trends, achievements, spot spikes, and visualize how your time is being spent. After beta testing is finalized, Stemmons power users will launch their Customer Success training series so they can launch within their organizations.
Major Enhancements:
New and Cleaner look, faster UI Performance

New Navigation and Stemmons Shortcuts
The Grid:
You can now remove Columns in Grids

You can Save the State of Grid

Full data export in Grids (Cases and Entities)

Lazy Loading Lists in Quest
Cases and Entities:
Calendar Control – allows you to view the Case Type or Entity Type in a Calendar with Date and Assignment filters.

Cases: Case Activity UI – allows you to see the latest activities for a Case Type

Lazy Loading Notes

Cases: Assign to option now also allow quick assignment to all Activity Log users
All Systems
New and improved HTML/Text Editor in all systems

Cast Option to execute the job as a one-time job and run it now

Better and faster Search (Including Indexing)

Updoc – New UI

Updoc – Shows a Folder Structure for Multi-File Documents (Multiple Documents in a single Entity)
Other Enhancements:
Multi-Threading Alert Services

Configuration – Preview External Data Source Top 50 records

Import of Departmental Hierarchy

Entity Overlay – Enhanced to allow multiple related Entities at once, i.e., multiple contacts, and Entity Role Relationships

Entity to Entity Role Relations – Enhanced to display multiple fields in the search window

We can order Relationship Grids based in configuration

Integrate Custom Template with Dynamic Template
Request a Demo Today: https://stemmons.com/demo/
About Stemmons Enterprise
Stemmons Enterprise provides dynamic software platform solutions applicable to a wide range of businesses. Our flagship product, Central, has been in use since 2012 managing Real Estate tasks and business processes. Today it supports multiple industries servicing the SMB to Fortune 500, government and higher education markets. www.Stemmons.com
##
For additional information on this topic contact:
Liz Coleman
Director of Marketing
Liz.Coleman@Stemmons.com