Stemmons Central User Interface
Stemmons Central User Interface
The new User Interface introduced in Gold Master Release 2.2 add greater consistency to the iconography, color pallets, window panes and user experience controls. You will find the user experience to be more uniform throughout the applications, with the added bonus of faster load times. While the icons and button styles have improved visually, they will remain in the same locations as you are accustomed to. This will maintain a consistent user experience.
What do you need to know about Stemmons Application User Interface?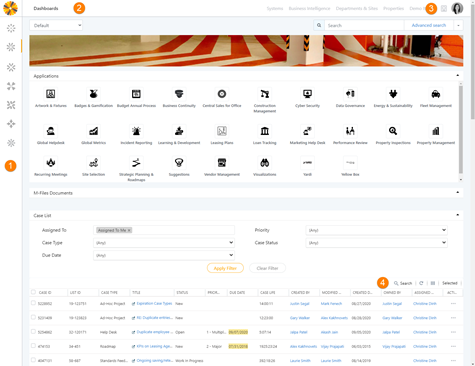 Left Navigation: Basic Application Navigation Pane includes navigation to Stemmons' echo systems
Top Navigation: Includes

Application Breadcrumb
Custom Buttons
News feed/Internal Post
User Information pane (with Logout option available for Non-AD Stemmons Clients)

News Feed/Internal Blog: is expandable via News Feed icon .
Application Grids:all grid options are available on the right side of the grid header with the below options:

Search:search within the grid with and condition.
Show/Hide Column:allows you to select important columns to show or to hide from the selected grid. The state of the grid will be saved until the windows cache is cleared or the grid stat is reset.
Refresh: refresh the grid.
Export : option to export grid to Excel or PDF.
Selected : option to select multiple rows and perform a similar update.


Collapse/Expand /: collapse or expand the grid.