Manage the QA life cycle by organizing tasks and ensuring they are assigned to the correct person.
Quality assurance issues surface across an enterprise, each posing a unique set of issues to be reviewed and analyzed. Whether rolling a product off of a production line, compiling code from software development efforts, verifying an office build-out, or finalizing a completed service; a review of the process needs to be conducted for quality. Central manages such QA life cycle by enabling dynamic checklists, task assignments, and reporting capabilities.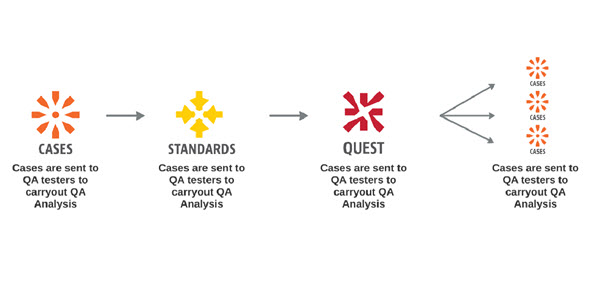 USER EXPERIENCE :
Cases are sent to Quality QA Testers to carryout QA analysis as described in each Quest checklist.
Standards define the details of each testing process.
QA Tester completes Quest checklist form.
Follow up Cases are assigned to the appropriate people to take action on items that did not fulfill QA requirements.
BEST PRACTICES :
Standardize Quest form questions for consistency across the enterprise.
Use System Codes to connect fields that include similar and commonly viewed information.
They are extremely helpful in generating reports and in rendering lists containing multiple Entity and Case Types.
Systematic testing can occur at any stage as Quest forms are highly configurable and can be adjusted in accordance with the development stage.
QA testing during production can minimize resistance by end-users and maximize adoption.
The most common development mistakes to be identified by way of reports and can support discussion around developer training.
FUNCTIONAL SETUP :
Create Entity Role relationships within Departments indicating who the proper person to carry out the QA is.
Case type created for QA with appropriate categories depending upon which type of QA it is.
Create a category specific Quest form for each QA including unique and relevant checklists; configure thresholds to automate Case generation and assignment.
Create supporting Standards documentation for each category specific Quest for each QA including unique and relevant checklists.