Use Stemmons to simplify tasks when planning an event.
Organizations often have the need to organize an event for their staff or clients. Central provides an efficient way to ensure all event preparation tasks are assigned to the correct person and are accomplished in a timely manner.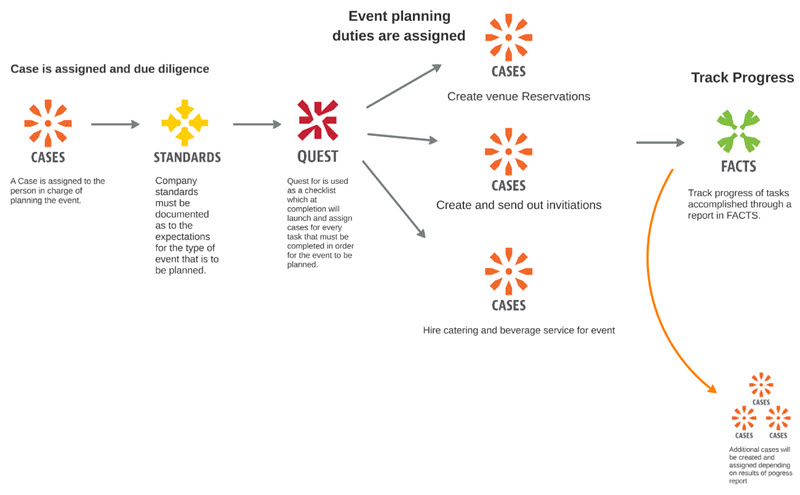 USER EXPERIENCE :
A case is assigned to the person in charge of planning the event.
Standards provides the proper procedure in order to plan the event.
A Quest form serves as a checklist in order to delegate tasks to certain individuals that will be involved in the event planning.
A Quest form is completed, individual cases are automatically assigned to certain individuals with their specific responsibilities.
FACTS keeps an active report on the tasks that have been completed and those of which still need to be done.
BEST PRACTICES :
Proper documentation of company expectations in Standards will ensure that any planned event will meet expectations.
A standardized and thorough Quest form created will result in every detail being taken care of.
A constantly updated list of venues and contacts in Entities will make any reservation process smoother.
By keeping a well formatted report which tracks the progress of all events being planned, the event coordinator can ensure all is accomplished within time frame.
FUNCTIONAL SETUP :
Entities and Entity type information must be created in Entities, this will include the event's location, time, date, etc.
Instructions and information need to be prepared in Standards on the best procedure for planning an event (i.e.; catering contacts, venues available, entertainment, etc).
A Quest form is created involving all different aspects of the planning process.
Quest form will be configured to trigger individual cases dependent upon information.
Design report in Facts to capture case status and priority for each assigned task.
Such as completed, reassigned, overdue, urgent, etc.