Stemmons aides in successfully and efficiently executing account management activities.
Account management becomes simplified with monthly reminders to select and execute action items to keep a sharp supervision on accounts. Cast will launch and assign Cases routinely for inspections of various Entities. Standards will provide proper company procedure for Account QA inspections/ follow ups. Quest will register inspection results and reassign cases if follow up or other action is necessary.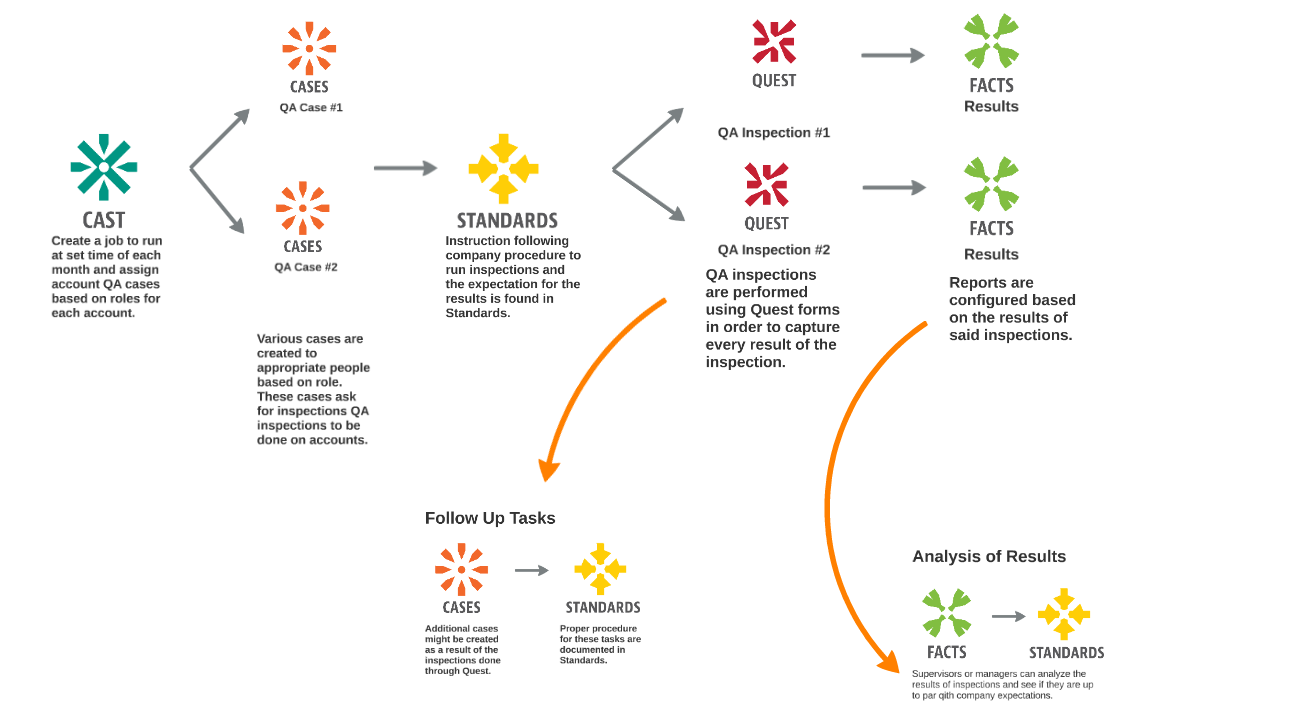 USER EXPERIENCE :
Create a job to run at set time of each month and assign account QA cases based on roles for each account.
Cast creates various account QA Cases which are assigned to the appropriate person based on Role.
These Cases ask person to conduct QA inspections for their accounts.
Each case will include a link to instructions related to conducting the Account QA inspection.
Assignees will read instructions before beginning inspection.
Assignees perform the Account QA inspection and will complete a Quest form.
Dependent on information input, Quest can create and assign new Cases.
If Quest determines that action/ follow up is necessary, it will create and assign new Cases to the appropriate person in order to accomplish and close Case.
BEST PRACTICES :
Periodic schedule for Cast but be designed in order to optimize the analysis of the QA process.
Ensure that employees and roles are properly assigned within Departments.
Associate employees that are to manage certain accounts in order for them to be able to keep track of the accounts they are responsible for.
Company expectations for Account management QA procedure should be properly documented within Standards, this way account managers can focus on areas that need more work.
A detailed Quest form will ensure that every aspect of the QA inspection is reported and analyzed.
Follow up tasks for negative remarks resulting from the inspection must be prepared according to the Company's standards.
FUNCTIONAL SETUP :
Create appropriate instructions on Standards to match particular inspection to be performed.
Create a Quest form for each type of account QA inspection.
Include appropriate thresholds.
Create or verify appropriate Roles as needed in Entities to accommodate the assignment of follow up cases.
Assign appropriate roles of individuals in Departments such that follow-up Cases are properly routed.
Create or identify existing case types to accommodate follow-up tasks that are created automatically or manually.