Task management of procurement process from request of good to payment of good.
The procurement of goods involves a lengthy process of request, approval, delivery, and payment. Central can keep this process on track and therefore the procurement process will run smoothly and efficiently. Cases will be assigned to people in charge of the different aspects of the process along with standards on how to accomplish those aspects.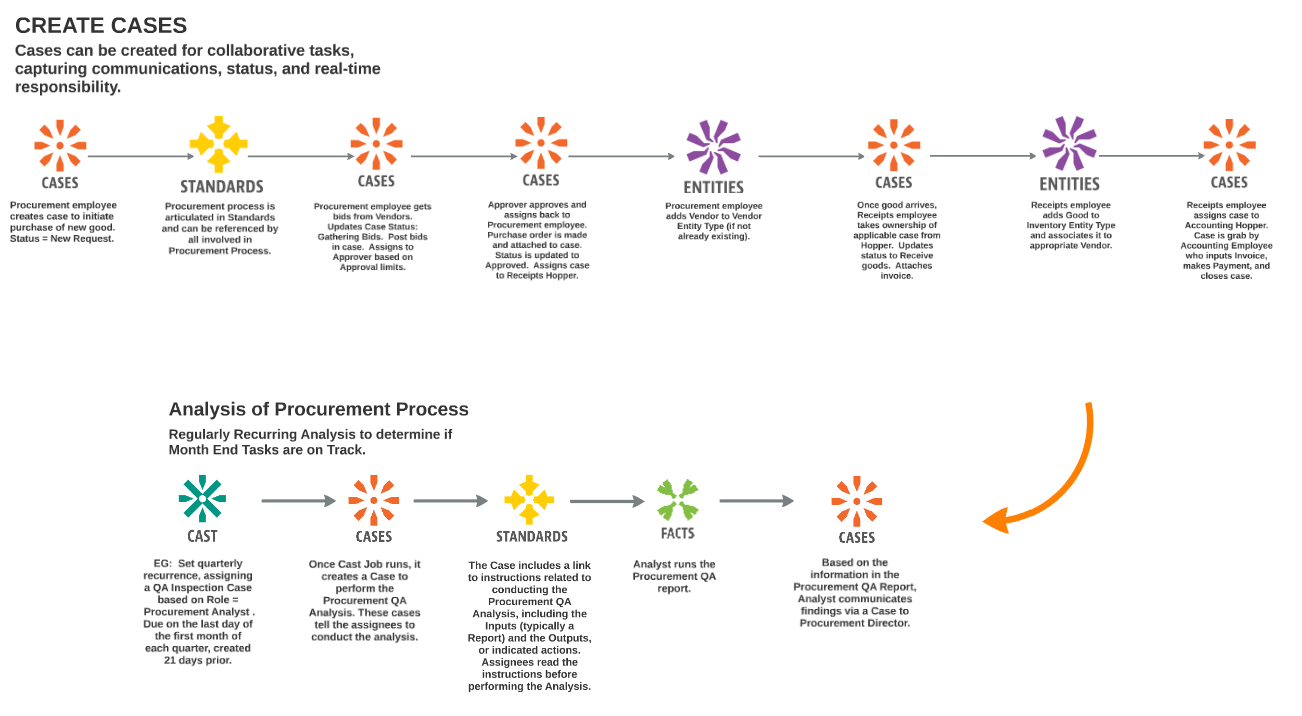 USER EXPERIENCE :
Procurement employee creates case to initiate purchase of new good.
The company approved process for each aspect of the procurement process can be found in Standards and must be read before any task is undertaken.
Procurement employee gathers various bids from different vendors and makes note of bids within Case.
Case is assigned to person responsible for approval.
They analyze the different bids and decides which to pursue by annotating it in the Case.
Procurement employee gets Case assigned once again and proceeds to make purchase from approved vendor.
Assigns case to Receipts hopper to wait for delivery.
Once goods are received, receipts employee will add goods to Inventory Entity and associate it to its Vendor for future purchases.
Receiving employee assigns Case to Accounting Hopper employee in order to begin payment process.
BEST PRACTICES :
Creating a Hopper for each department will ensure that there is always someone available to take ownership of a case.
Proper documentation of vendors and inventory will allow for easy identification of what is needed and who to contact if necessary.
Proper Company procedure for the procurement process must be documented in Standards.
Proper Company procedures for the payment process must be documented in Standards.
Assign a supervisor over the case in order for that person to make sure that the tasks are being accomplished in a timely and correct manner.
FUNCTIONAL SETUP :
Create Entity type for Vendor and Inventory.
Create Roles for Procurement, Approval, Receipts, and Accounting employees.
Create case type for procurement.
Create Case Hopper for Receipts and Accounting.
Annotate proper procedure to follow in procurement process for all aspects of it.