Manage the organization and outcome of a structured meeting.
Get more out of meetings by promulgating standard agendas, pre-designed reports, and centralized scheduling. Structured meetings are particularly useful for common meetings and check-ins that should take place consistently throughout an organization, such as regular check-ins between managers and their teams, site reviews, and so forth. Structured meetings also provide a mechanism for pushing information through the organization and for capturing important suggestions and other meeting results. After carrying out a Structured Meeting an Analyst (or others) can see whether meetings have been conducted, and also can coordinate the assignment and collection of post-meeting information.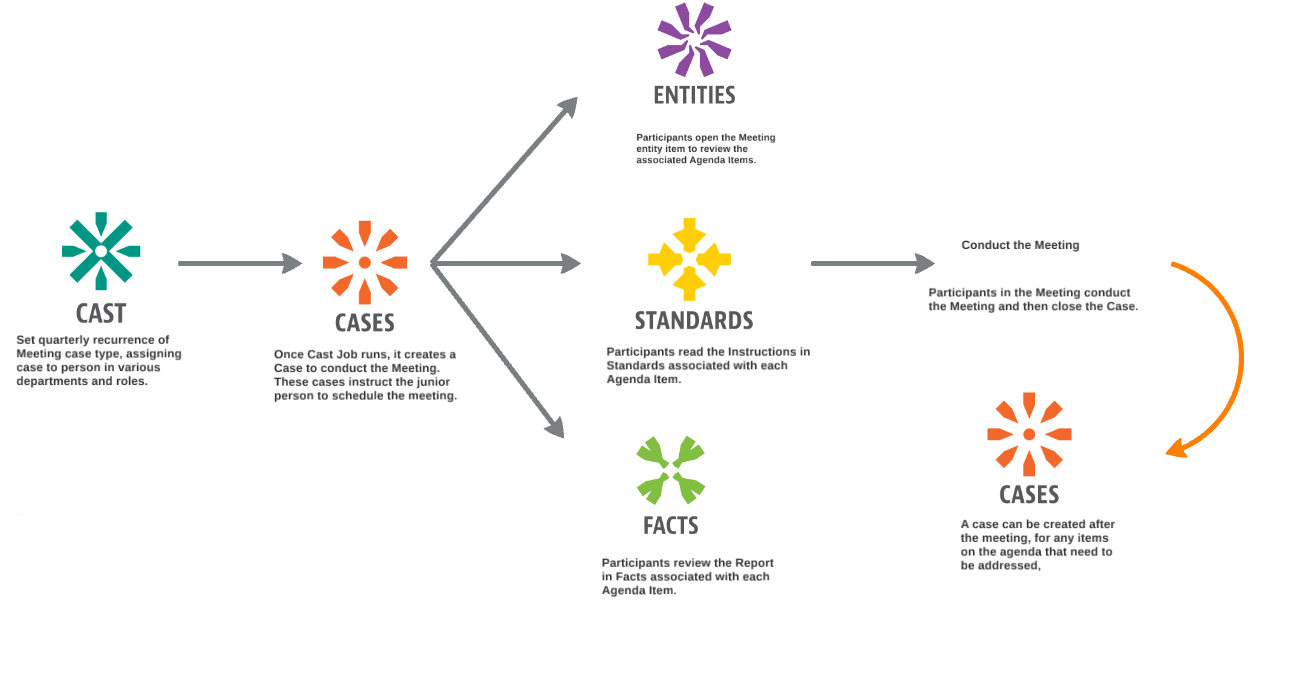 USER EXPERIENCE :
Case sent to meeting organizer.
Case includes agenda related reports.
Create instructions on proper way to carry out the specified Structured Meeting.
Use Quest form to capture results, suggestions, or other meeting outcomes.
BEST PRACTICES :
Add structure to meetings judiciously, leaving ample time and room in the process for unstructured conversation and ad-hoc issues.
Widespread adoption of basic meeting structure is preferable, especially in the beginning, to intermittent adoption of more complex agendas.
Consider creating a consolidated view in Facts (SSRS or other visualization tool) to bring together agenda items, associated reports, standards, and links to associated Quest Forms. In this configuration, the Case creating a meeting assignment would link to this report.
Creating a two-level entity structure (Meeting Type and Agenda Item) is not strictly necessary, but the additional layer of abstraction allows for certain common agenda items to be more robust and consistent across meeting types. For example, "Review Past Due Cases" is a common item that would appear in multiple meeting types, and as such should not have to be created every time. Consider Agenda items as reusable objects.
In configuring Agenda items, it might be useful to categorize them in the following way: Unstructured – It is important to reserve time in an agenda and emphasize the importance of unstructured conversation. This can also be thought of as "Manager's Choice," and is a conscious recognition that structured content is only a part of an effective meeting. Generic – Generic items cover basic functions and are usable across many circumstances. Examples include: Review Overdue Cases; Review QA Results; Review Customer Feedback; Review Updated Standards. Specific – Specific items are associated with a small number of Meeting Types and are limited in scope. They can be easily changed to suit stakeholder needs as they are used narrowly. Push – Push topics are items that need to be discussed or communicated during a meeting, as determined by senior management.
Structured Meetings creates an opportunity for centralized administration of meetings. A single individual or small team can manage the meeting activity of a very large, distributed company on an exception basis. This person or team would be responsible for making sure that meeting assignment cases are created and completed, for managing agendas and push topics, and for generating insights from information captured in the Structured Meetings.
For meetings between a given set of participants, including variety might be desirable. For example, monthly meetings between a Director and a Supervisor do not need to include the same agenda each time. Accordingly, consider creating three versions of this meeting (eg: Director-Supervisor Meeting – Focus A, Director-Supervisor Meeting – Focus B, Director-Supervisor Meeting – Focus C), and assigning one instance of each per quarter. Depending on the circumstances, relevant Focus areas might be Safety, Customer Experience, Team Dynamics, Compliance, Financial Results, etc. Each meeting sounds like a good idea at the time it is first imagined, but recognizing the overall meeting load for a given job function or individual can be eye opening.
While the primary goal of a Structured Meeting program is to streamline meetings and make them more efficient, it also provides an opportunity to review and manage the overall meeting load. If each Agenda Item is associated with an estimated time, and each Meeting Type indicates whether a meeting is required to be conducted in person, performing such analyzes and using the results to better prioritize meetings is relatively straightforward.
FUNCTIONAL SETUP :
Create Case Type for a meeting.
These Cases will be assigned to meeting organizers.
If desired, create a Suggestion Box or Meeting follow-up Case type.
If desired create a Quest form to capture results, suggestions, ideas, meeting overviews, or other information resulting from meetings.
Create a meeting type Entity for each regular meeting.
Create a list of agenda items that can be used by various meeting types.
Configure a relationship between meeting type and agenda items so associated agenda items will appear with each meeting.
Various reports associated with generic or specific agenda items.
These reports should provide the information needed to address the subject matter of the agenda item.
Can also create a meeting completion or meeting insights report.
Create appropriate Standards for: Creation and association of meetings and agenda items, launching meeting Cases to assign meetings, recurring analysis for meeting completion and results.