Management of multimedia content which may be used in various ways from training to evaluation.
Video and audio files often capture important customer interactions, security incidents, or inspection information, but they are typically unstructured and difficult to use outside of limited, anecdotal settings. Moreover, reviewing and tagging these files is time-consuming and requires expensive training. Bring structure and scalability to derive value from these assets by applying a consistent, forms-based scoring and tagging protocol, and use the resulting data to drive decisions.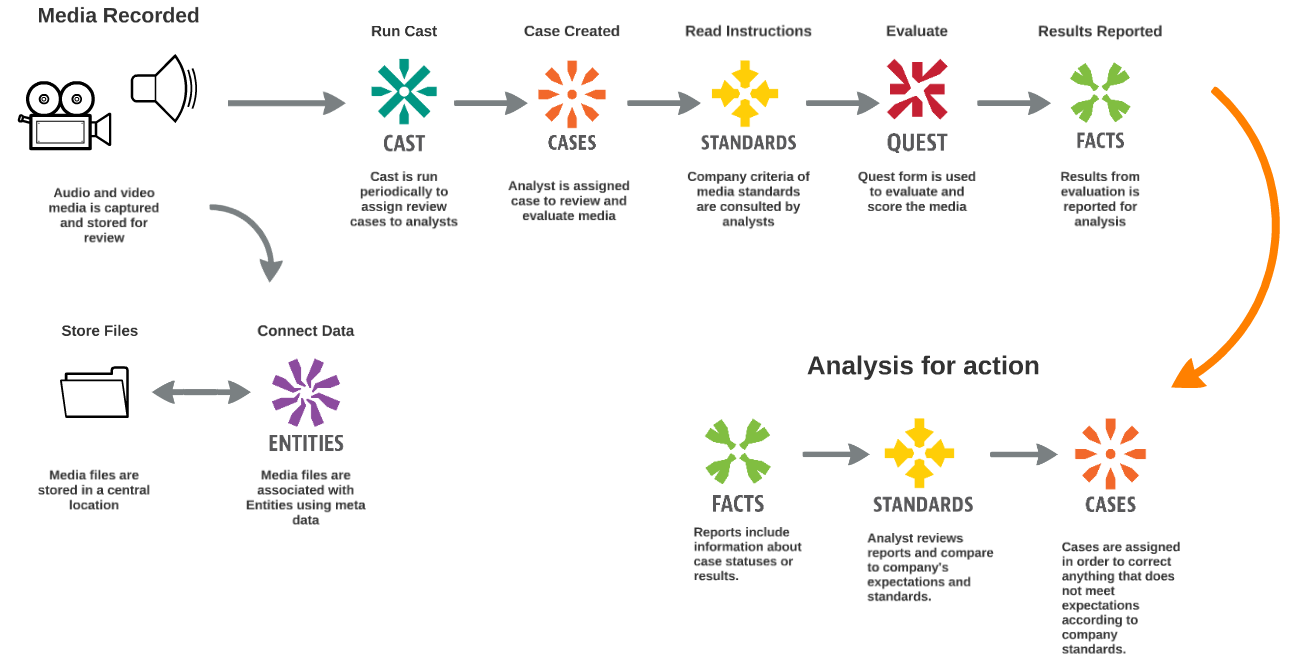 USER EXPERIENCE :
Video and audio files are captured by secret shoppers, customers service recordings, mobile or stationary cameras, or security systems. These files are stored in a content repository and associated with an Entity type created to reflect these files
The file Entity is tagged to metadata such as Manager, Site, File, Type and so on in order to relate the file to the overall corporate structure and create context
Cast will run on a regulated interval to initiate review
Case is assigned to the analyst with the appropriate link to the instructions and applicable Quest form
Analysts are trained to properly review files by referring to written Standards and by conducting training reviews until their reported scores are sufficiently similar to pre-established "gold standard" scored for the same files
Files are reviewed by analysts and scored according to a relevant Quest form. While forms may differ based on specific incidents or file-types, they include common reporting categories to capture roll-up information across file types
A variety of reports can be run against the data generated by this process including: individual performance reviews, supervisor/region/location reviews, trend analysis for identifying success and opportunity.
BEST PRACTICES :
One of the most powerful benefits of structuring file review data is the ability to report across multiple form types
In structuring Quest forms, consider maintaining common metadata across form types if the forms are expected to be rolled up for reporting purposes. In addition, create and maintain consistent categories across Quest Forms of different types, wherever possible
In creating reporting views, always apply standard date measures to the specific date, to facilitate reporting. Standard date measures include not only static fields like day, month, quarter, but also relative fields like Months Since and Weeks Since, and also higher-level fields like Months-Since Category. These measures allow for KPIs and reports that do not require date selection
For more simple reviews, it is possible to use Entities without further scoring in Quest, and simply tag the file entity with appropriate values and counts directly. In this configuration, the Entity contains both the metadata about the file and also the results of the review, and reporting views derive from the Entity rather than from Quest
Consider using cohorts to group different but similar items together for reporting purposes. For example, Customer Size Category, Store Format, etc. These can be calculated fields created in reporting views, or tagged manually in Entities
To train reviewers, prepare a set of sample files. Begin with voice-over narrated CBTs of someone scoring the file. Progress from there to a series of sample files where the trainee scores a review, and then compares his or her results against an answer key
Ongoing spot-checks of reviewer results are critical to maintaining standards these forces are destructive to the value and integrity of the program. Use the results of reviews to drive culture in the organization, including employee recognition, bonuses, performance reviews, and – most important – training focus
Create Case Types to capture and assign follow-up items that should flow from Quest forms based on scores (combined or individual question). Examples might be to notify a supervisor, alert the legal or compliance department, initiate training, or follow-up with a customer.
FUNCTIONAL SETUP :
Create Entity types for the video/audio files. This entity type is a central concept and includes a link to specific video or audio file in the content repository
Entity types for taxonomy used to describe each file must be created or identified such as locations, vehicles, and so forth
Case types must be created for the different types of tasks that will be assigned using the media files
Quest form for each review type must be created. Map questions to company requirements for performance
Set up Cast to run on desired interval to review audio/video
Standards for each Review Type are to be created and mapped to Quest forms. As well as standards for performing recurring analysis, how to perform analysis of form date, where to send results and how to derive insights
Configure reports in order to utilize audio and visual data. Different reports that can be created include: incident/file report, individual performance report, Team/Supervisor performance Report, Time-shifted performance, region/location/type performance, and performance by issue.