Creation and management of an action plan program in order to resolve or accomplish a problem or task.
An Action Plan program systematizes the identification of opportunities for improvement, the creation of specific intervention plans by selecting from pre-defined interventions (or "Plays"), and the implementation of these plans. A coordinated system not only ensures that opportunities are not missed, but also that teams and individuals do not continually reinvent the wheel to solve common problems for which best-practices already exist. Finally, coordinated Action Plans improve consistency across an organization, and dramatically reduces the time required for training and supervision.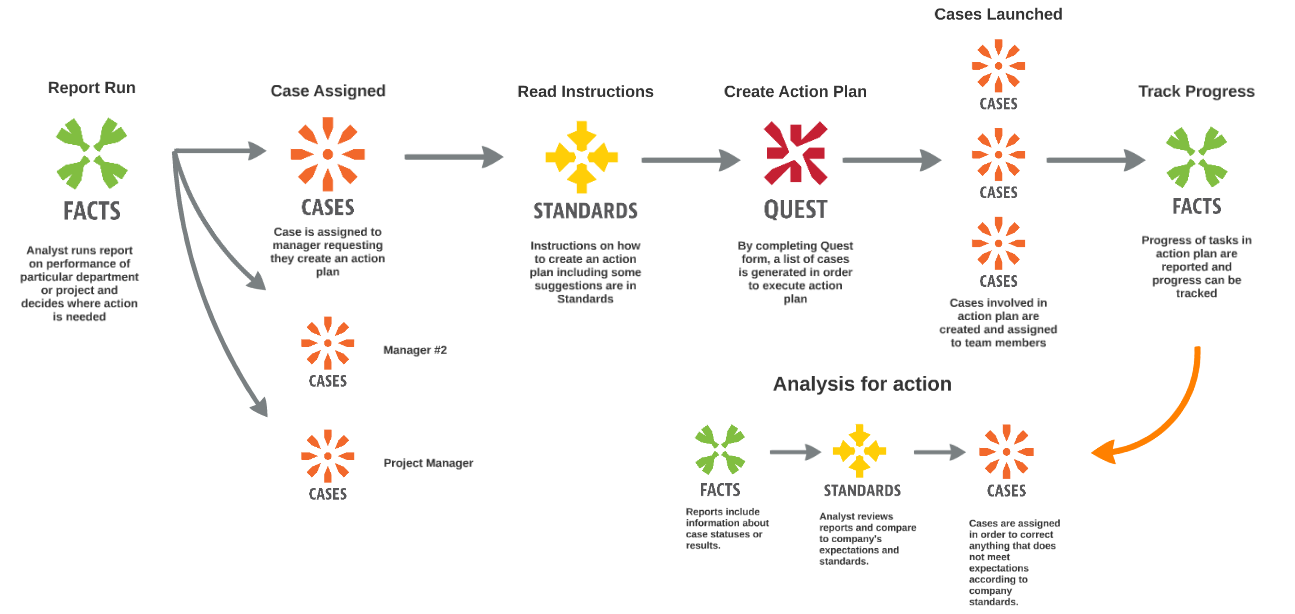 USER EXPERIENCE :
Analyst runs report that identifies opportunities based on certain thresholds (for example, if a manager is underperforming at a certain location)
Analyst assigns a case to each Manager who has opportunity for improvement and request the completion of an Action Plan
Instructions and guidelines on how to build an Action Plan are within Standards. Even descriptions of the possible actions and their benefits in terms of improving
Manager proceeds to Quest and selects the Actions they'd like to assign to their "plan" to improve. Each action item selected in the Quest form turns into a case that is assigned to the Manager
The Manager ensures completion of each case in alignment with their action plan
While Managers focus on individual action plans, supervisors may be overseeing several. They can access a report summarizing the status of each Action plan. This report is easily generated and includes both summary and detail information on the progress made by each manager, based on status of the case.
BEST PRACTICES :
Action Plans are useful in a wide variety of circumstances. The most suitable include those where performance issues are caused by a wide range of factors, and where a portfolio of solutions are available. The approach is particularly useful for dispersed opportunities where managers or other responsible individuals could benefit from both expert input and a methodical approach. Some examples include: Overall Store / Location / Product performance, Sales, Results, Customer Retention, Employee Turnover, Overtime, Cost or Maintenance Overruns
Action Plans are exceptional for ensuring a basic level of activity. Even just requiring individuals to actively consider each standard Play, and to make a recommendation as to whether it is applicable, provides considerable value. However, it is important to remember that Action Plans are less appropriate for trickier problems and to consider more sophisticated interventions, and instead free up resources to work on these higher-level activities
Of the many aspects of an Action Plan program, only the Opportunities Report and the Playbook represent unique content. Accordingly, once established in an initial area of focus, the entire Action Plan infrastructure can be easily reused in other areas of the enterprise by simply creating new versions of the Opportunity Report and Playbook to fit additional circumstances. With this in mind, all the other elements of the Action Plan infrastructure should be designed generically, so they will fit additional use cases in the future
The Playbook is a central part of the Action Plan process as it represents the company's expert knowledge of how to best correct under performance. Consider the Playbook as the definitive set of options to improve results. It should be complete and kept up to date.
Having a well-maintained body of expert knowledge will help tremendously in getting new employees up to speed, and helping even experienced ones execute effectively
If a Supervisor has multiple Managers who will be responsible for Action Plans, consider having each Manager fill out the Quest form and save it without finalizing it. Then, consult with the Supervisor to approve the Action Plan. Once the Supervisor approves the Quest Form, the Manager finalizes it to launch the cases.
FUNCTIONAL SETUP :
Create a case type to accommodate the assignment of Actions plans. This case type is used by the analyst to communicate to the manager the assignment of creating an action plan
Create a Case type to capture the individual Cases that constitute an action plan. These Cases are created by Quest when the manager selects which plays will be included in a given action plan
Instructions are to be created on how to assign actions plans also how to create actions plans, a playbook with the different plays for improvement to choose from, and a recurring analysis of action plans
Various reports need to be configured. These reports should be able to identify opportunities, review action plans, and give insights on action plans
For each area in which an action plan will be used, create a Quest from that matches the action items in Standards (the playbook).