Creation and execution of a process in a continuous manner to increase efficiency and avoid repetition.
Create a reusable process for selecting solutions of any kind to avoid reinventing the wheel whenever a new requirement arises. Structure the decision-making process with checklists, reports, and cases that drive internal decisions and make sure important factors are not missed.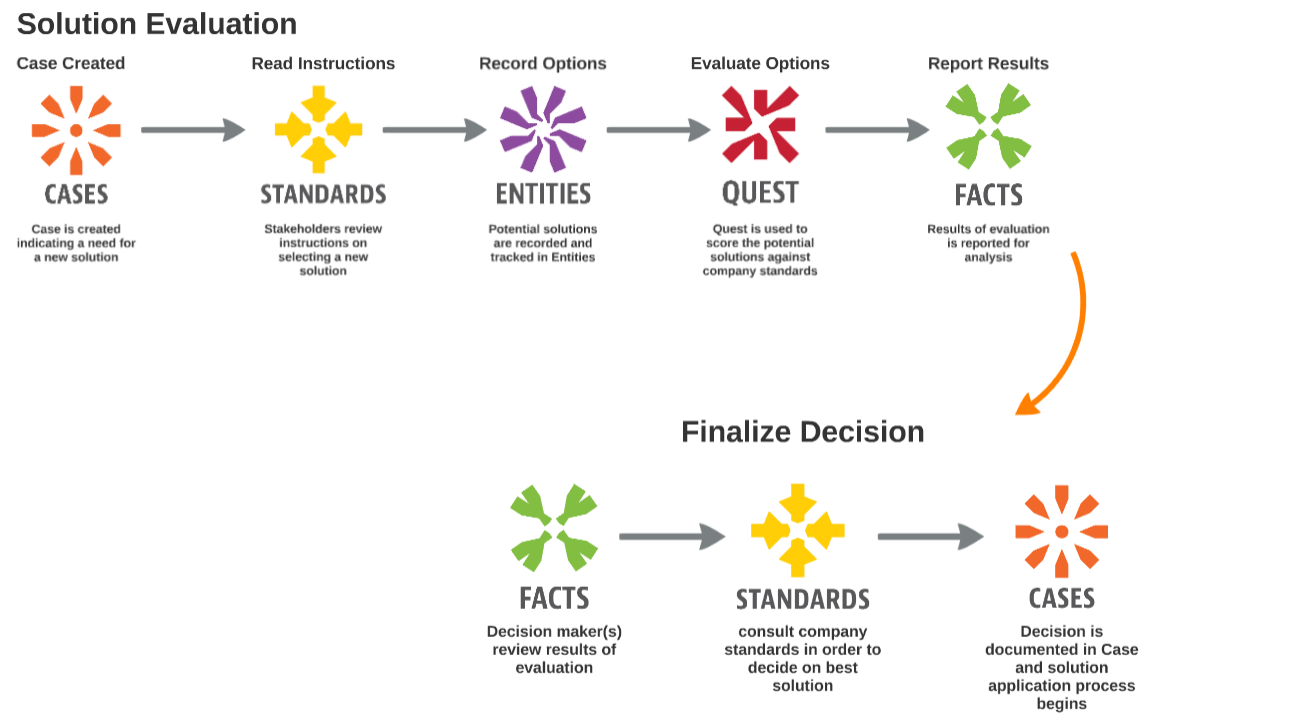 USER EXPERIENCE :
A user creates a Case indicating the need for a new solution
Stakeholders review Solution Selection instructions in Standards
A power-user creates a specific Quest form analyzing: Standard company requirements (same for any solution); Specific requirements relating to this solution
Obtain bids/information from Vendors: Track Vendors and Solutions in Entities, if desired; Use Quest form as the RFP if desired
Score each Vendor/Solution in Quest
Decision-maker(s) review the Quest form results within a report in FACTS (results compared against business requirement matrix)
Decision-maker(s) documents Solution Selection in Case
Solution application process begins.
BEST PRACTICES :
Certain requirements should always be included in any selection process. Some standard questions relate to the company's global requirements (i.e.; compatibility with existing technologies, regulatory compliance, language needs) while others just reflect good common sense (i.e.; support standards, licensing model, vendor corporate information). Take the time to determine these once and include them in Standards. They will change infrequently. By re-using the questions that should always be included, users are free to focus on defining the specific requirements associated with a given search, without having to worry about missing important concepts
Consider normalizing the values associated with Vendor, Solution Type, Solution, and other reportable fields by capturing them in Entities and using them as external data sources as Quest form metadata. Especially in larger or more distributed companies, the ability to revisit the results of these searches in a structured way becomes very valuable
Capturing the solution selection process can provide useful artifact in both negotiating vendor contracts and also substantiating and demonstrating the work done by the department.
FUNCTIONAL SETUP :
Entities: Add appropriate solution details to Entities
Standards: Add "Process and Business Requirements for Solution Selection"
Case: Add case type for "Solution Selection"
Quest: Create Quest type for Solution Decision-Making, Solution RFP, etc
FACTS: Create Solution Selection Report to be able to import Quest form data compared against business requirements matrix.