Goal / Milestone Badge System
Employees in a company will be recognized for reaching milestones or achieving goals.
Stemmons Central can be configured in order to recognize employee milestones throughout their time with the company. These can range from year of service, sales goals, or charity work hours completed. Employees will be associated to their specific departments and roles, which will relate to certain goals as described in Standards. The various goals or milestones will be checked periodically to see who has met the requirements. Badges will be virtually awarded to employees and said badges will remain associated with their profile in Departments. These badges can also be published in various types of social media for the company for employees to be recognized.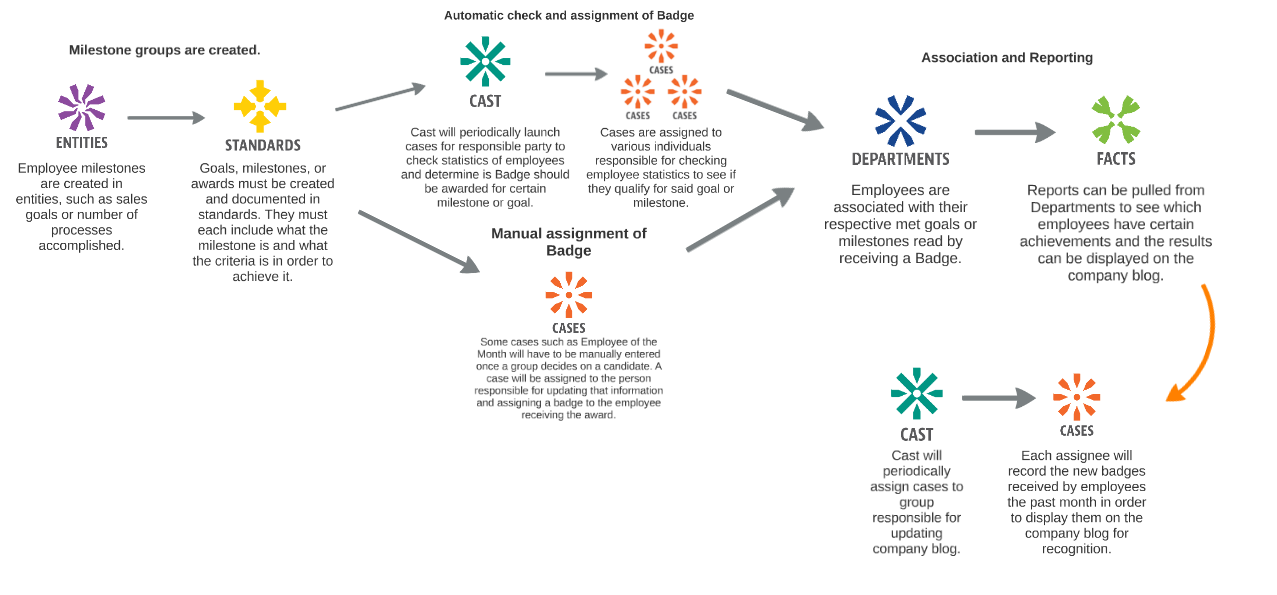 USER EXPERIENCE :
Goals such as sales goals or number or processes accomplished are set in Entities
Proper documentation of description and criteria for each goal is recorded in Standards
Cast can periodically launch cases assigned to qualifying individuals to check all employees for new potential badge/recognition recipients
Certain goals/ milestone recognition award are not recurring and will be manually awarded and entered in the system (i.e.; employee of the year)
Employees are associated with their respective achievement in Departments
Reports can be created in order to see which employees have the most achievements within the company
Cast will periodically assign cases to marketing group to update the company blog
Cases assigned to marketing team in order to recognize employees who have recently reached a milestone or achieved a company-set goal
BEST PRACTICES :
Employees and their achievements should be clearly displayed for all company to see in order to encourage friendly competition and encourage other employees to achieve their goals
Goals and achievement that are easier to achieve should be checked for completion by employees with more frequency
Employees that believe they have met a certain goal can submit a request for awarders to check their progress and award their badge to them
FUNCTIONAL SETUP :
Create and Entity type for goals and achievements
Company criteria for awards and goals to be met must be documented in Standards, along with instructions for judges to evaluate these goals and milestones.
Recurring Cases to check for achievements must be programmed in CAST
Employees must be associated with their roles and with other individuals if part of the same group or committee.
Reports must be created in order to consolidate the information of all employees who have been awarded a badge
CAST must be programmed to assign cases to marketing team about recognizing individuals.
Case types for marketing and badge awards must be created in Cases