Incident Reporting and Prevention
Central can manage incident reports and also manage future incident prevention processes.
In order to prevent incidents within a company, preventative maintenance is necessary. Cast will periodically launch a case for an employee to complete a checklist in order to asses if any changes or adjustments are necessary. Incidents do occur, and when they do a certain procedure must be followed in order to report said incident thoroughly and launch cases in order to fix any problems that might have caused said incident.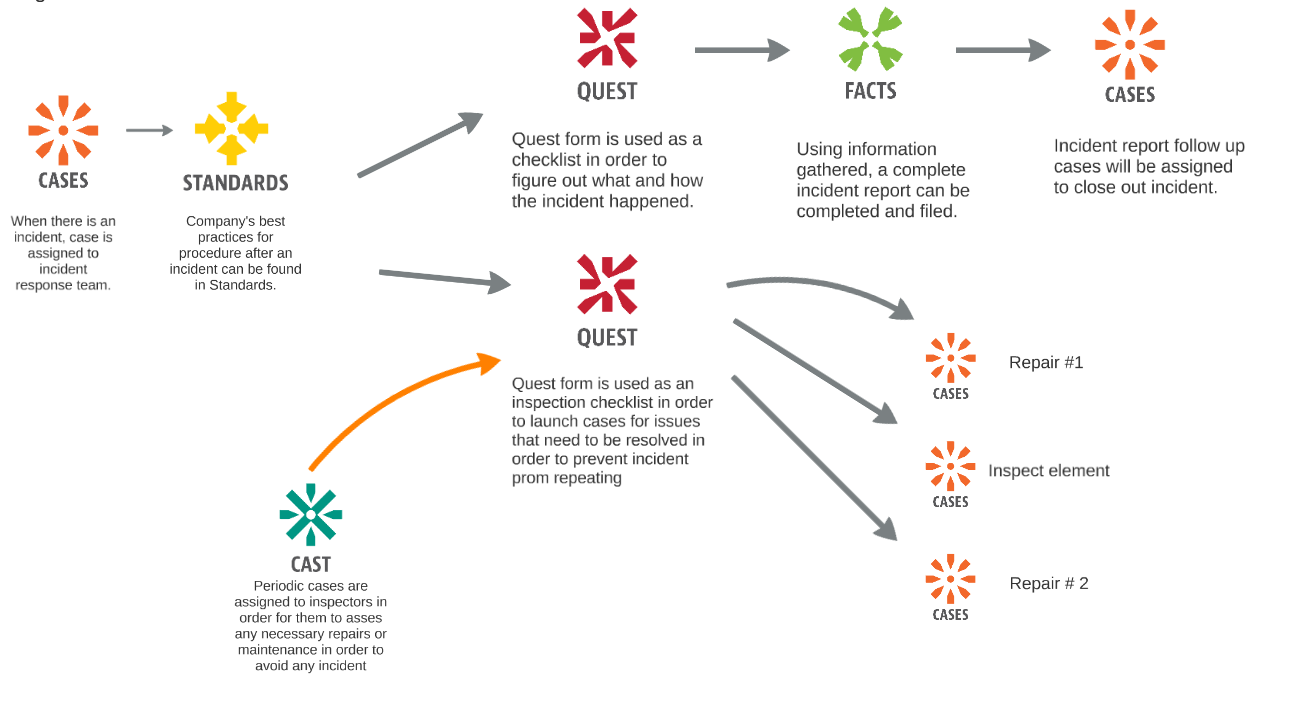 USER EXPERIENCE :
A case is created and assigned to the responsible incident response team
Case will include a link to instructions on how to proceed after there has been an incident and how to report on it
Quest is used as a checklist in order to investigate the cause of the incident
The information from Quest is gathered and reported
Depending on the report and incident investigation results, new cases might be assigned
Quest can also be used as an inspection in order to launch preventative maintenance cases so that future incidents are avoided
Cast is programmed to launch preventative cases at a set time each period
Cases are assigned if any preventative maintenance or repair is necessary
BEST PRACTICES :
Ensure proper company procedure is the event of an incident are documented
Ensure if there is a medical emergency to have trained personnel on staff
Each department within a company must have their specific incidents that they need to monitor on a regular basis
It is very important that managers are constantly checking to make sure that preventative measures are being implemented in order to try and avoid incidents altogether
FUNCTIONAL SETUP :
Case types for incident response and preventative maintenance must be created
Instructions on company best practices for incidents and follow up procedures must be well documented in Standards
Quest forms must be created both for incident investigation and for preventative inspections
Create report in order to consolidate information from Incident investigation