Contract Expiration Notice
Receive notice when an agreement or contract will expire soon in order to take necessary action.
Whenever an agreement or contract is executed and signed, part of the closing process should be to set a recurring reminder for when the contract will expire. Whenever a contract is signed and filed, the expiration date is noted. Using this date an automatic case will be generated as a reminder to the person responsible to take action and renew contract or take other necessary action.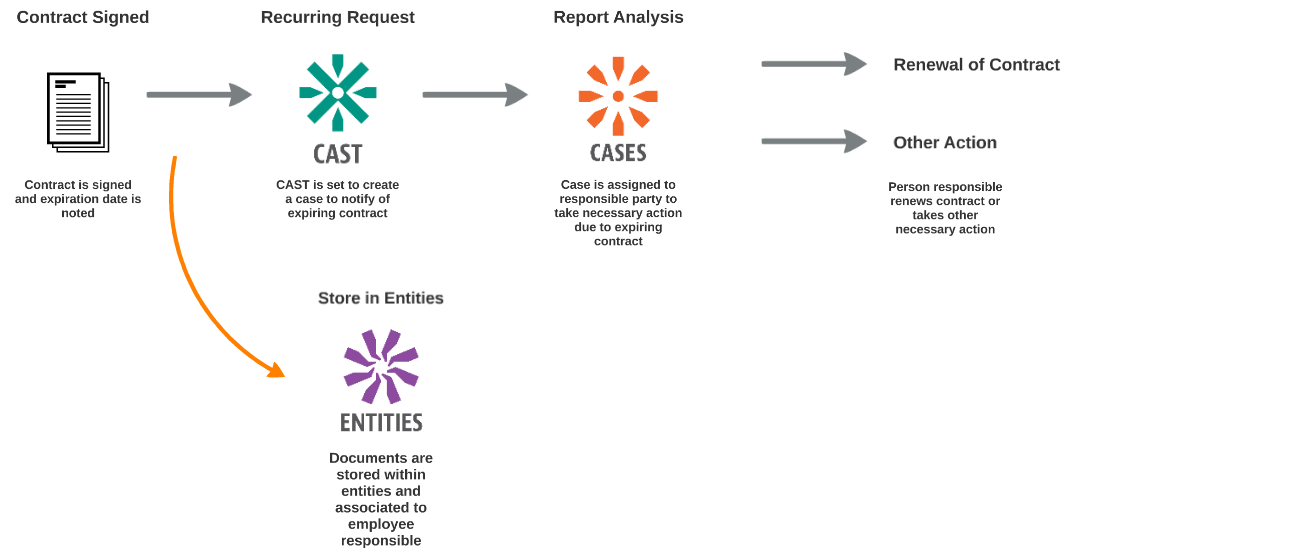 USER EXPERIENCE :
Contract is signed and expiration date is noted
CAST is configured to create a case a number of days prior to expiration date
Case is assigned to person responsible for taking action prior to expiration
Contract is renewed or other necessary action is taken
Documents are stored in Entities and associated with the employee responsible for the document
BEST PRACTICES :
Employee responsible for document with upcoming expiration must consult with managers to verify if contract or agreement should be renewed
If Contract is renewed, ensure that a new CAST is configured to create a case before the new expiration date
This should be done to every contract and agreement that has an expiration date
FUNCTIONAL SETUP :
CAST must be configured to create case at specified time
Contract expiration case type must be created
Entity type for contract or agreement must be created
Each document stored in Entities must be associated with the employee responsible for that document