Customer Survey Follow up
Case is created in order to resolve an issue states in a customer satisfaction survey.
Companies will send their customers satisfaction surveys on a regular basis in order to collect information on their performance. The main objective of these surveys is to find way that the Company can improve. Central allows a Company to convert any negative remark in a customer satisfaction survey and turn it into a call for action via a Case.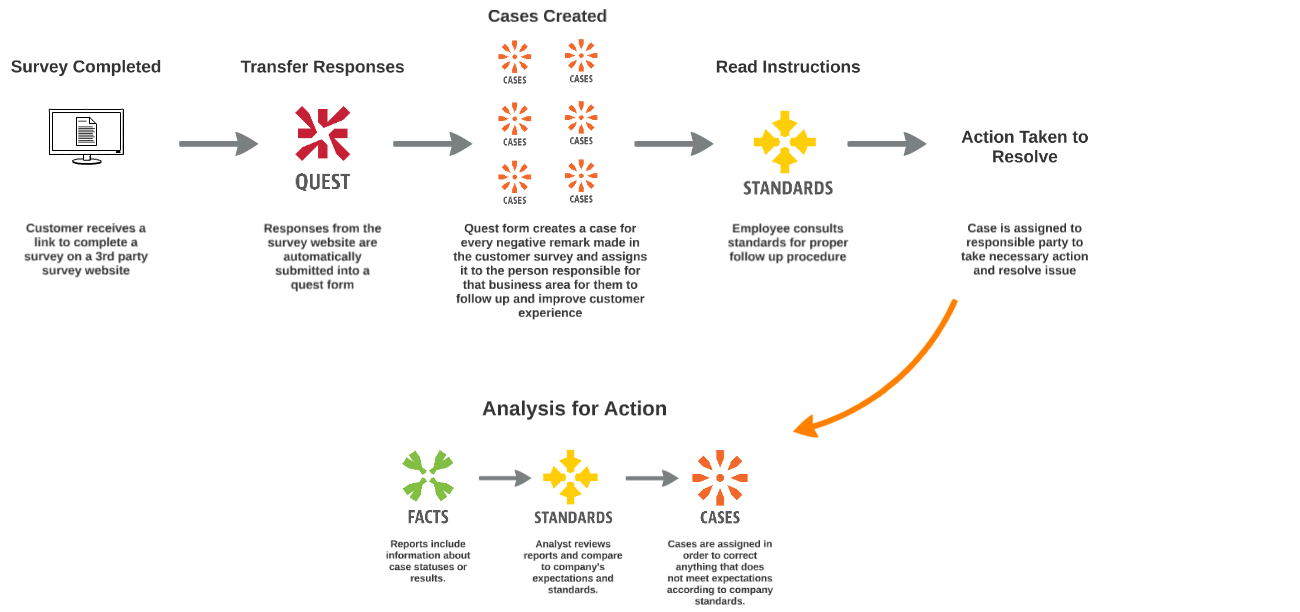 USER EXPERIENCE :
Link for customer satisfaction survey is sent to customer to complete on a 3rd party survey website
Customer's responses are automatically entered from survey into Quest form
Quest form acts as case launcher, creating a case for every negative remark or response that does not meet criteria
Cases are assigned respectively to employees who are responsible for the particular business are in question
They will follow up with customer, resolve the issue and improve the customer experience
Progress and status of cases assigned can all be tracked using reports
BEST PRACTICES :
Employees resolving an issue should first follow up with customer in order to fully understand their reason for the negative mark
If an item is a simple fix, first communicate to customer that the issue is being resolved then follow up with them after issue is resolved to ensure that issue is not still present
If customers are all complaining about a common issue, perhaps a larger project should be created around resolving that issue once an for all.
FUNCTIONAL SETUP :
Quest form must be created for particular customer satisfaction surveys to be sent out
Survey must be configured in 3rd party website to match Quest form
3rd party survey must be integrated to communicate responses to Quest form
Customer survey follow up case type must be created
Employees must re associated with the particular Quest form questions and the respective business areas in Departments
Instructions on how to properly follow up with a customer and along with company's expectations and standards must be created and documented in Standards.