Quality Assurance Inspections
Management of Quality Assurance inspections.
Quality Assurance inspections are a necessary part of any business process. Any product or service provided, vehicle being driven, or property being utilized must meet Company standards for quality and safety. Depending on the Company's size and business operations, the amount of QA inspections that are necessary on a regular basis can become overwhelming and can cause corners to be cut and thus hurting the Company and potentially its employees. Stemmons Central allows for active management and tracking of all inspections by assigning them to specific personnel and then consolidating results from inspections. Those results will create necessary tasks if anything does not meet Company standards. Finally, all progress of inspection and cases can be tracked by managers to ensure all activities are being accomplished properly.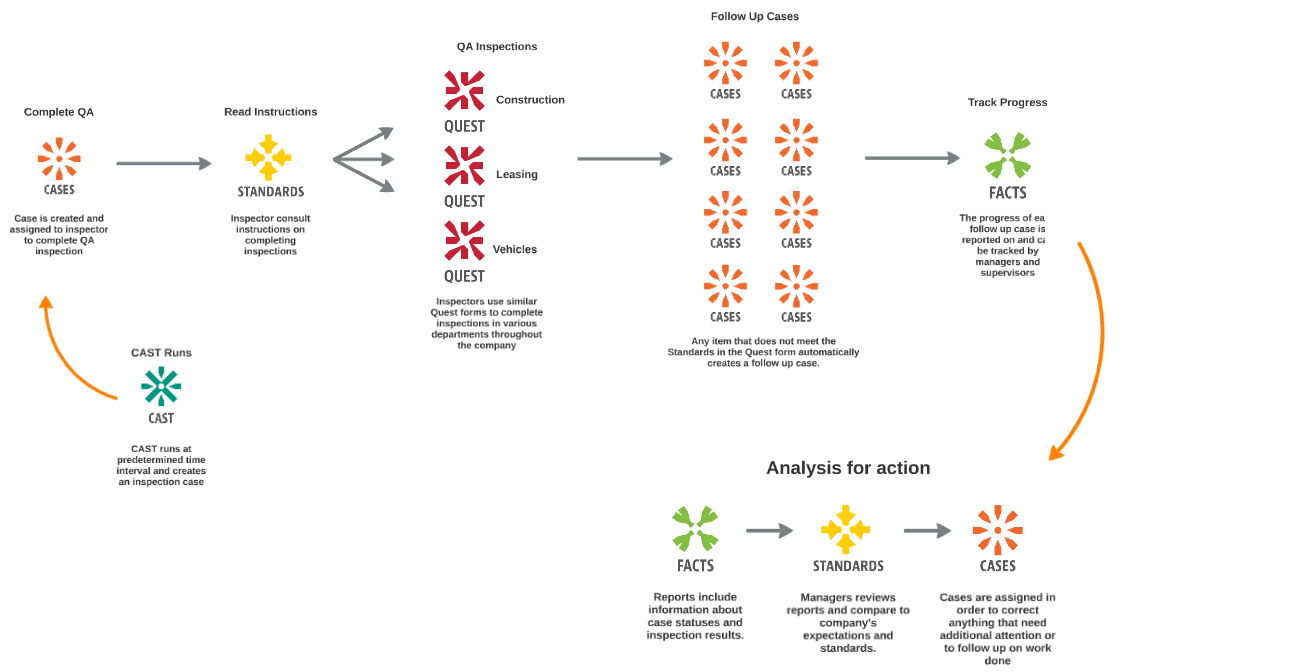 USER EXPERIENCE :
Manager will create a case to complete QA inspection to a specific employee
CAST can also be configured to create recurring cases for inspections at specified time intervals
Inspectors will consult instructions on how to proceed with inspections in Standards
Inspectors will use Quest forms in order to complete their inspections
Any inspections results that do not meet Company's Standards will automatically create a case to resolve issue
Inspection follow up cases are assigned to necessary departments
Status of every case assigned is reported on for managers to review
Managers will review all inspection results and follow up cases and determine if any necessary tasks must be created to ensure Quality throughout Company
BEST PRACTICES :
Managers should pay attention on the time it takes inspectors to complete inspections and distribute the work load accordingly
It is good practice for managers to follow up on all tasks created from Quest forms in order to make sure issues are resolved properly.
FUNCTIONAL SETUP :
QA Inspection and QA follow up case types must be created
CAST must be configured to create QA inspection case at a predetermined time interval
Procedure for completing inspections along with any instructions for follow up tasks must be created and documented within Standards
Quest forms for QA inspections must be created
Report must be created in order to display all inspection results and track progress of follow up tasks