Management of IT equipment life cycle and budgeting related to it.
To maintain top-tier equipment, stay within warranty boundaries, and ensure IT equipment is working it is important to analyze equipment lifespan. Yearly budget projections become much easier when a consolidated and insightful report on equipment that will need to be replaced is delivered to the decision-maker. Central manages the life cycle budgeting process by annually creating and assigning cases for equipment to be inspected and a budget created accordingly. By maintaining an updated budget, better financial decisions can be made in order to save he company money.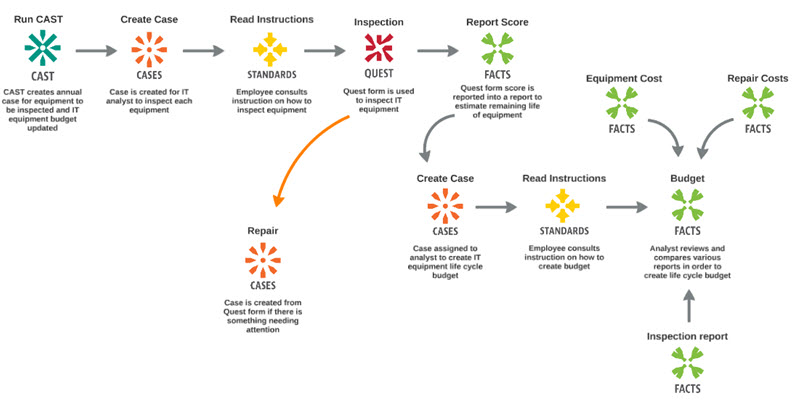 USER EXPERIENCE :
CAST creates a case annually for analysts to inspect equipment and create IT life cycle budgets
Case is assigned to analyst to inspect equipment
Instructions on how to inspect equipment are documented in Standards
Quest form is used to inspect equipment and score is reported on to estimate remaining life of equipment
If a repair is necessary a case is generated from Quest form
Case is assigned to business analyst to create life cycle budget
Instructions are provided for process to create budget
Analyst analyzes various reports in order to create the annual budget for the IT Equipment
BEST PRACTICES :
Business analysts should consult past yearly budgets in order to compare results and adjust for new budget
Ensure that CAST jobs are spread out throughout the year in order to avoid an overload of budget cases assigned at once
By approving purchases for equipment listed in the Equipment Lifecycle report the decision maker makes one approval and the IT Procurement rep can proceed with their tasks with minimal supervision.
FUNCTIONAL SETUP :
CAST must be configured in order to create annual budget case
Equipment inspection case along with budget creation case types must be created
Quest form must be created along with equipment repair case type must be created
Instructions for inspecting equipment along with process and suggestions to create budget must be created and documented in Standards
Reports for the inspection scores along with repair cost, equipment cost, and other financial reports must be created in order to be analyzed for budget creation