Central manages all aspects of a projects by recording all information in an organized and structured manner which allows for reporting and analysis.
The key to a successful project is an organized project manager. Central structures all relevant information and activities related to a project in order for all of it to be easily analyzed and reported on. By utilizing Central, a project manager can now expand the number of project that they can manage at one time and save time in identifying a problem in the workflow.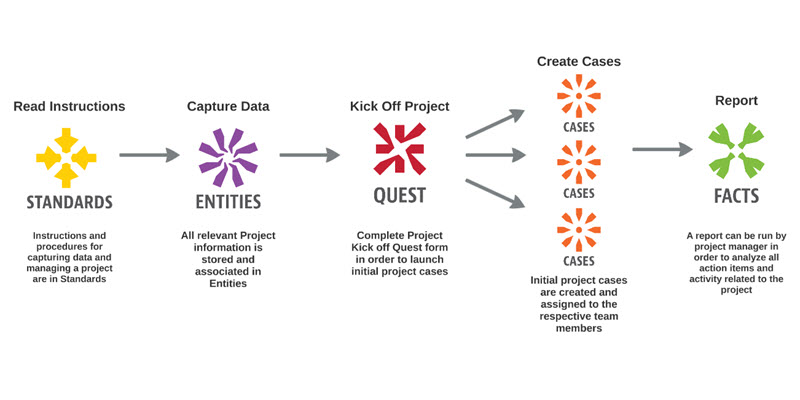 USER EXPERIENCE :
Instructions and procedures on how to capture all relevant information about a project is documented in Standards
All desired information related to the project must be captured in Entities. These include Company, Opportunity, Project Status, Risks, Issues, and category
Project Kick Off quest for is completed in order to launch all initial project cases
A project case type is created for any action item related to the project
Initial project cases are assigned to respective team members
All activity related to the project can be tracked, reported, and analyzed in order for project managers to have an overview of any or all of their projects
BEST PRACTICES :
Ensure that the project case type includes categories to differ from kick-off tasks and other project activities
Project Manager will be able to analyze reports of all project activity and easily identify the opportunities for improvement, thus being able to correct any issue or avoid any risk.
Project Manager will be able to view cases by Workstream and Project Phase to manage multiple projects at once.
FUNCTIONAL SETUP :
Instructions and procedures for capturing all relevant information must be created and documented in Standards
The following entity types must be created: Project, Company, Opportunity, Phase, Workstream, Risks, Project Category
All entities must be associated to the Project Entity in order for all information to have a link to the Projects and be displayed in one place
Project Kick Off quest form must be created including all action items necessary at the beginning of a project
Project Case type must be created
Create Issue Case type to manage all Issues associated to the Project
Report displaying all relevant project information and activity must be created